M Expression
After effects Script | Utility Tools
M.Expression allows you to save all your After effects expression in one place. Now no more searching for your favorite expression. Save as many as expressions you want. And apply it with just a Double Click.
Listed Expression Panel
With m.expression, keep all your expressions well organized in one place and apply whenever you want it.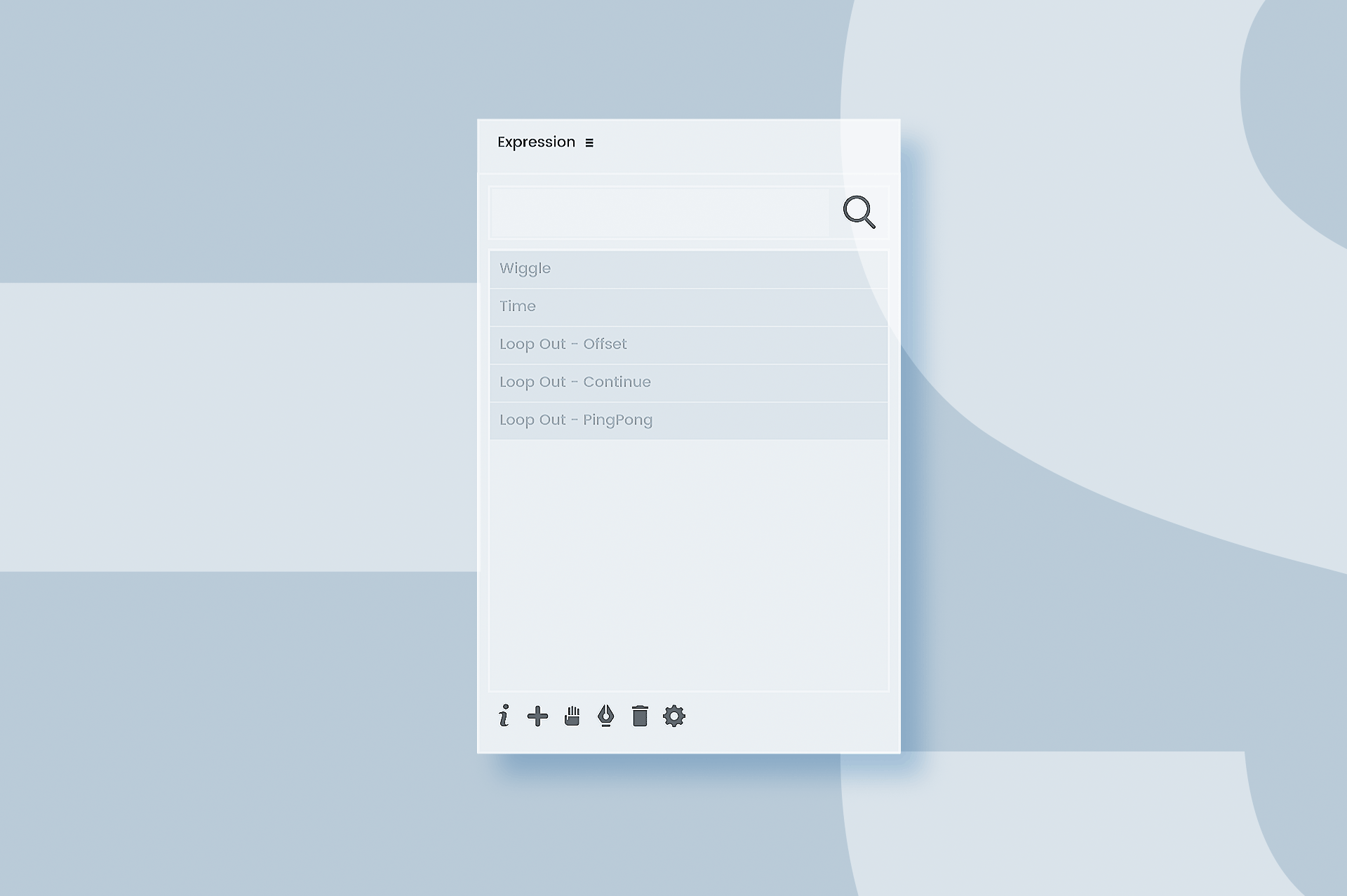 Add, Edit, Grab and Share
Add, Edit or Grab expressions from timeline with a click. Not only that, you can share your expressions with your friends.
OPTIONS THAT WORKS
M.Expression comes with a number of useful options. With m.expression you can easily add, edit, grab After Effects expressions. You can also share your After Effects expressions with your friends.
DOUBLE CLICK
With M.Expression, you can apply expression with just a double click. Just select a property or multiple properties and double click on the desired expression in the list. Boom, you are done.
SEARCH BY NAME OR KEYWORD
With advanced search option, search expression by name or by keyword. Just type few letters of the name and related expression will come up or click on the search icon to do a deep search.
ADD NEW EXPRESSION
It is just one click job to save expression in m.expression. To add new expression, just click on add button. Fill the name, expression and note filed and click on tick icon. That's it. Now you can find your expression in the list.
EDIT EXISTING EXPRESSION
Do you want to edit or update any expression? Just a click away. Select the expression you want to edit and click edit icon to edit.
RESTORE TO DEFAULT
In any point of time, if you feel to restore to the default setting, click the restore button in the settings panel. But careful, this action will delete all expression from the list and restore to the default list. You can not undo this action.
RESTORE BACKUP
Once you backup your expression list, you can restore your backup by clicking the restore backup icon. Being said that, you can backup your list from one machine and restore the backup on another machine. Make sure you do not rename or edit the backup xml file.
SHIFT + DOUBLE CLICK
You can also use Shift + Double click to apply the expression to any properties. It works same as Double Click but Shift + Double click will ignore any expression that is applied to the layer.
EXPRESSION INFO
Get expression details with a click. Select an expression from the list and click on info icon. This will bring up detail information of the expression that you saved with expression.
GRAB EXPRESSION
With m.expression, you can easily grab any expression from the timeline. Just select any property with expression and click on grab icon. This will bring up "add expression" panel to save expression in the list.
DELETE EXPRESSION
If you want to delete any expression from the list, just select the expression and click delete icon. But careful, you can not undo this action.
BACKUP YOUR EXPRESSION LIST
You can always backup your expression list. Just click the backup icon in the settings panel and choose a folder to save your backup list. This option is very useful if you want to switch your machine.
APPEND EXPRESSION
Append works just like restore but it does not delete any existing expressions from the list. It just adds expression in the same list. This option is very useful if you want to share your expression list with your friend. Just backup your list and send it to your friend. Your friend can append your list to use it.
INSTALLATION
Copy the "Expressions.jsxbin" file to Script UI folder of After Effects installation folder. Make sure "Allow Scripts to Write Files and Access Network" option is checked in After Effects preference menu.

m.expression by mographfactory is licensed under a Creative Commons Attribution 4.0 International License.
UPDATES:
27.10.2016
MAC OS error Fixed

Added two different version for MAC and Windows

Restore issue fixed
24.10.2016
Fixed Broken link issue

UI Help Tips added

UI Name Icon fixed